Dismantling

This was the dirtiest and least fun part of the restoration. But if you want to get to the fun part you need to do it. Even though this isn't that fun you can learn most everything that you need to do at this point.
When I lifted off the body we got me, my dad, brother, and mom to lift up the front and hang it from a beam in our garage.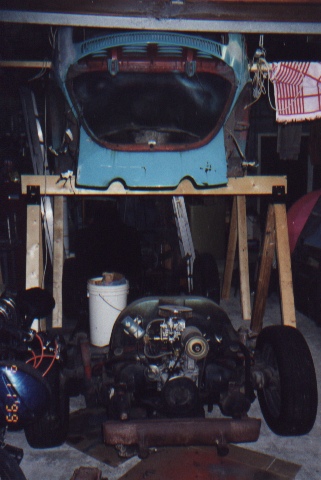 We then lifted the back up using pulleys and sat it on the five foot saw horse, then we did the same with the front. once we did this we were then able to roll the chassis in and out of the garage and store it under the body. This was a great help because until we were able to move some stuff it would have never fit on the other side.
When you are taking anything apart you should label it with duct tape because this won't dry up like masking tape. And if you have anything small put it in a zip lock and write on that. I have found this very use full. And make sure to take lots of pictures to remember where everything went.